If You Purchased Popchips Snacks, You May Be Entitled to Benefits from the Kelly v. Popchips All Natural Class Action Lawsuit Settlement.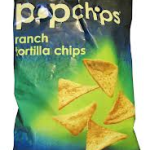 Popchips, Inc. ("Defendant") has reportedly agreed to a proposed settlement of a class action lawsuit against Popchips in the Circuit Court of Jackson County, Missouri at Kansas City (captioned as Tonya Kelly, et al. v. Popchips, Inc., Case No. 1316-CV11037) alleging, among other things, that Popchips marketed and labeled popchips snack products as an "all natural" and "healthier" food that contained "no preservatives" and "no artificial flavors or colors" which was allegedly misleading since popchips snacks purportedly contained artificial and synthetic ingredients, were highly processed and contained too much fat, according to the Popchips class action settlement notice.
The proposed Popchips settlement class reportedly includes, unless otherwise excluded, all of those persons who reside in the U.S. and who purchased any of the following eligible popchips brand snacks in the U.S. between January 1, 2007 and November 14, 2013:
original
sour cream & onion
barbeque
sea salt & vinegar
sweet potato
parmesan & garlic
jalapeno
cheddar
salt & pepper
chili lime
thai sweet chili
brown sugar & spice
nacho cheese tortilla chips
ranch tortilla chips
salsa tortilla chips
chili limón tortilla chips
katy's kettle corn
salted caramel corn
hint of butter corn chips
cheddar corn chips
sea salt corn chips
salsa corn chips
sea salt rice chips
wasabi rice chips
golden cheddar multi grain chips
salted multi grain chips
olive oil veggie chips
tuscan herb veggie chips
sea salt veggie chips
The Popchips class action settlement reportedly provides that the defendant will pay $2.4 million in cash and vouchers to Pop chips settlement class members who timely (by July 7, 2014) file valid claims. Settlement class members can choose between a cash option of $1 per bag bought (maximum of 10 bags per household) or a voucher to receive two $1 bags of Pop chips Snacks (up to a maximum of bag per household).  Pop chips has also reportedly agreed to change certain of its marketing and packaging relating Pop chips Snacks.  Claim forms are available online for download or for online submission on the settlement website.
For additional information about the Popchips class action settlement you can write the Settlement Administrator at Popchips Settlement, PO Box 3076, Faribault, MN 55021-2676, call 1-877-465-4896, or visit the settlement website at popchipssettlement.com
If You Have Thoughts On The Popchips Snack All Natural Class Action Settlement, Share Your Popchips Class Action Settlement Comments Below.